3-WHEELS FLAT HONING AND FINE GRINDING
FH3
The FH3 machine series has been developed for operation with automation. These machines have two lower grinding wheels, which can be swiveled 180°. Because of this, the processing down time is very short.
While one set of work pieces are being honed, a second set of honed parts on the second lower wheel are unloaded and unfinished work pieces loaded.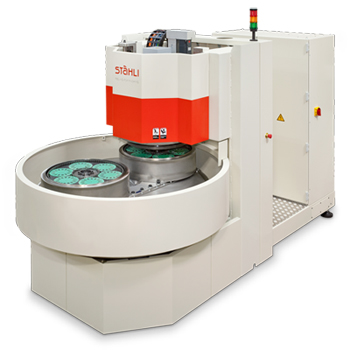 FH3-505
The Stahli STAHLI FH3-505 is a flathoning and finegrinding machine of a new generation. It is specifically developed for being automated and at the same time shines with minimal unproductive time - and therefore provides highest efficiency. The shown automation combination showcases the machine-automation interface. Additional, customers-specific variations are always possible.